EN ROUTE ARTSAKH
Support our efforts in raising funds during Telethon 2014 for successful and timely completion of the Vardenis-Mardakert Highway. Think strategically and act generously!
NATIONAL SECURITY: Given the troubling twists and turns with Azerbaijan earlier this year, the border hostilities and geopolitical complications have put national security back on urgent status. That is why All Armenia Fund and its affiliates decided to once more make this grand-scale project the centerpiece of its upcoming 17th International Thanksgiving Day Telethon 2014.
Last year's Telethon raised over $22 million USD to launch the construction of the Vardenis-Mardakert Highway, designed to connect communities on the northern borders of both Armenia and Karabakh. The second aggressive fundraising push will warrant the completion of this massive infrastructure project in a timely manner.
ON THE MAP: Since its completion back in 1999, Goris-Stepanakert Highway has proven to be the kingpin of the Fund's sustainable economic development and security strategy.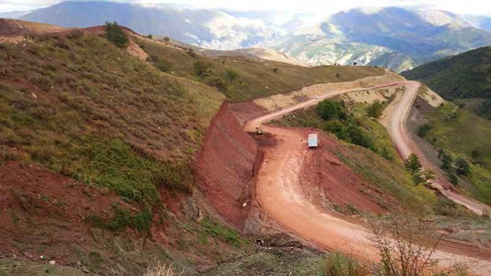 Prior to its construction, it would take days to travel from Mardakert in Karabakh to Yerevan in Armenia. After completion of the Goris-Stepanakert Highway as well as the North-South Highway, within Karabakh alone, it now takes just nine hours. The map shows how the Goris-Stepanakert Highway connects southeastern Armenia with south-central Karabakh, ending in its capital city. That excludes access for both northern Armenia's border communities and those border towns in Karabakh, which, 22 years ago, were delineated as part of the Azerbaijan Soviet Socialist Republic. Today, these villages are neighbors with a hostile Azerbaijan, creating a very different security dynamic. An alternative route connecting the two Armenian republics can make all the difference. Symbolically, the Vardenis-Mardakert Highway, once connected to the other transportation arteries in Armenia and throughout the region, will form a circle. The Vardenis-Mardakert Highway will link 30 communities including the three towns: Vardenis in Armenia, Karvachar and Mardakert in Karabakh.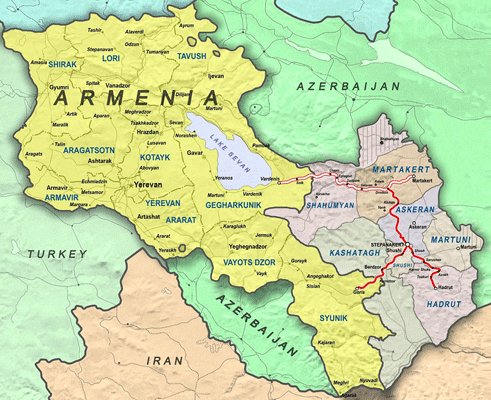 ECONOMIC BENEFITS: The new highway will make Mardakert region of Karabakh more accessible, for instance it will take less than 4.5 hours to reach Yerevan, which means that trucks will reach markets faster and businesses will thrive. Equally important, supplies will reach local government centers promptly. In addition, goods from Artsakh will have an easier time reaching the Black Sea port of Poti in Georgia for export to foreign markets. Selling high-quality competitively-priced goods in foreign markets has the potential to boost economic development. The impact of the road also extends into tourism. As Artsakh makes itself a more attractive destination for adventurous travelers, the regions of Karvachar and Shahumyan are prime candidates to benefit from an increase in visitors. Tourists will be able to enter from one end and exit out of another – an option not currently available – experiencing the whole of Artsakh's sublime beauty will be easier and more attractive.
HIGHWAY CONSTRUCTION PROGRESS: The road covers very varied terrain involving multiple construction, engineering, and public safety challenges. It contains 16 bridges and overpasses, 339 sharp turns, 17 of which are serpentine configurations. Since breaking ground last year, the reconstruction and renovation of this critical route has been well under way. Currently, earthworks are being performed simultaneously across 12 sections of the highway. This entails blasting rocks, leveling surfaces, widening roads and transposing existing engineering structures. In addition, crews are installing gutters as well as building embankments and crash barriers. This phase is expected to be completed before the new year, which will allow for passenger cars to traverse from Gegharkunik region in Armenia to the Mardakert region in Karabakh.
TO BE COMPLETED: Still to come are the final phases, including paving roadways and installing traffic signage, painting lane indicators and building rest stations. It is expected to implement these phases with funds raised during Telethon 2014. The constructor will provide 5-year warranty for the road.
WHY TO HELP US: We believe that our past support of major highway projects has produced tangible, lasting benefits. We have led the way through this type of ambitious undertaking twice before, under more trying circumstances. Building roads is gritty and heavy work and doesn't make for pretty photos, yet the promise for transformative change is golden. Support Vardenis-Mardakert Highway today!

ARMENIA FUND TELETHON 2014
Thanksgiving, November 27th

LIVE FULL WEBCAST ON WWW.ARMENIAFUNDUSA.ORG
11AM – 11:00PM EST
Channel Guide, Eastern Region (12–6PM, EST)
MICHIGAN
WMYD TV 20 | Detroit
Comcast/Xfinity — Ch. 20, 1003, 235
Brighthouse Networks — Ch. 6, 206
WOW! TV — Ch. 20, 206
AT&T U-verse — Ch. 20, 1020
Charter Communications — Ch. 10, 16
Dish and DirecTV — Ch. 20
CONNECTICUT
WMBC 63 | Norwalk
Cablevision — Ch. 86
Over the Air — Ch. 63.1
NEW YORK
WMBC 63 | NYC | Upstate NY | Long Island
Verizon FiOS — Ch. 18
RCN — Ch. 19
Cablevision — Ch. 20, 117
Time Warner Cable — Ch. 10, 18, 21, 63
Dish — Ch. 63 / 8115
DirecTV — Ch. 63 / 895
Over the Air — Ch. 63.1
NEW JERSEY
WMBC 63
Verizon FiOS — Ch. 18
Cablevision — Ch. 20, 117
Comcast Cable — Ch. 17, 19, 20, 23, 24, 32, 63
Time Warner Cable — Ch. 21, 63
US Cable of Paramus — Ch. 10
Service Electric — Ch. 18
Dish — Ch. 63 / 8115
DirecTV — Ch. 63 / 895
Over the Air — Ch. 63.1
EASTERN PENNSYLVANIA
WMBC 63
Blue Ridge Cable TV — Ch. 18
Dish — Ch. 63 / 8115
DirecTV — Ch. 63 / 895
Over the Air — Ch. 63.1
Check your local listings for more coverage.