For Immediate Release
January 17, 2007
ARMENIA FUND USA WELCOMES
RAFFI FESTEKJIAN AS
NEW CHAIRMAN OF THE FUND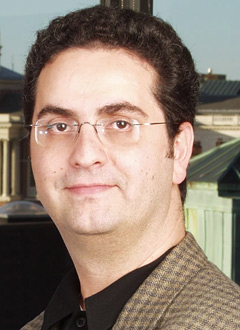 NEW YORK, New York – Armenia Fund USA is pleased to announce that Raffi Festekjian, co-founder and CEO of PCi Corporation and a Member of Armenia Fund USA Board of Directors, will succeed Kevork Toroyan as Chairman of the organization beginning January 2007. Unanimously elected by the Board of Directors, Raffi, a successful and visionary businessman who is very actively involved in outreach to Armenia, is taking the leadership of the Fund at a busy and important time. Armenia Fund, with its 19 international affiliates in all continents of the world, is marking the anniversary of the organization's 15-year presence and development work in Armenia and Karabakh since the republic's independence in 1991. Established in 1992 by a special presidential decree of the newborn independent republic's first president, for already 15 years Armenia Fund has been investing in one of the most vital economic sectors of the country – large-scale socio-economic infrastructure. Securing long-term sustainable development in every project sponsored, the Fund has had an outstanding impact on the lives of countless citizens of Armenia and Karabakh.
As co-founder and CEO of PCi, a leading provider of compliance solutions to the financial services industry, Mr. Festekjian is responsible for the overall strategic direction of the company. Under his leadership, PCi has become one of the largest IT corporations with over 2500 clients, including 95 of top 100 institutions in the United States. Prior to co-founding PCi, Mr. Festekjian was a consultant and investment banker at Kellett Ventures Management and Private Capital Investments where he aided capital deficient community banks through operations consulting and recapitalizing on sale of the institution. Mr. Festekjian received a BS in Engineering from American University of Beirut and an MBA, with distinction, from the J.L. Kellogg Graduate School of Management.
Mr. Festekjian's staunch support for Armenia and Karabakh is present in his professional, as well as personal endeavors. In addition to his professional activities, he is also engaged with several non-profit organizations that are focused on building the future of Armenia. In 2004, he co-founded Yerazart, an organization that assists talented young Armenian artists in Armenia. Raffi is also the Chairman of Armenian St. Stephens School Board of Trustees in Boston, a Board Member of Armenia 2020, Vem Radio and a Trustee of the Armenian Assembly of America.
Armenia Fund USA Board of Directors and staff look forward to working with Raffi as the organization advances its mission of touching lives in Armenia and Karabakh.
"After seven years of my involvement in the Fund, with the last four years as Chairman, I am convinced that it is time to pass the torch to younger leadership, who, I am convinced, will take the Fund's mission to new horizons" said Kevork Toroyan, now former Chairman of the Fund. Noting that change of leadership will not distance, but instead strengthen his devotion to the organization, Mr. Toroyan also pledged his professional commitment and oversight to the Fund's agricultural development project that, launched in the spring of 2005, is making tangible improvements in the lives of underserved rural communities throughout Karabakh. An engineer by profession with extensive institutional experience in international construction business, Mr. Toroyan's leadership and guidance have been instrumental in the success of this pilot innovative development project.
Armenia Fund USA, with its international affiliates, has had strong and measurable impact on the development of Karabakh and Armenia since independence. The organization remains the largest contributor to socio-economic development projects there since 1992, having invested more than $160 million in large-scale infrastructure.
---
ABOUT ARMENIA FUND USA: ARMENIA FUND USA, founded in 1992, was the first of Hayastan All-Armenian Fund's 19 international affiliates and serves constituents in all states east of the Mississippi. As a non-profit, non-governmental, nonsectarian organization, the Fund represents all Armenian constituents.
Armenia Fund USA is the largest contributor among the 19 international affiliates – supporting strategic infrastructure projects in Armenia and Karabakh, and having helped build 138 miles of roads, 100 miles of waterways, 36 schools, 3 electric transmission networks, 210 residential buildings and 15 healthcare institutions.
Armenia Fund USA's Mission is the development of strategic socio-economic infrastructure in Armenia and Karabakh, focusing on major projects such as major highways, schools, drinking water to communities and humanitarian programs in education, training and medical facilities. The Fund has adopted a policy to go "Beyond Bricks and Mortar" to provide sustainability for projects it sponsors.
To learn more about Armenia Fund USA, please visit our website at
www.ArmeniaFundUSA.org or call us at 212-689-5307.
Armenia Fund USA
80 Maiden Lane, Suite 301
New York, NY 10038