For Immediate Release
July 13, 2009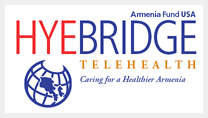 ARMENIA FUND'S HYEBRIDGE TELEHEALTH PROGRAM SHINES AT ARMENIAN MEDICAL CONGRESS
Positive benefits to Armenian healthcare discussed and demonstrated
NEW YORK, New York — Programs and benefits of Armenia Fund USA's recently unveiled HyeBridge Telehealth™ program were presented at the Tenth Armenian Medical World Congress held in New York City in early July.
"Our HyeBridge Telehealth program is the next important phase in our already successfully implemented healthcare programs. This program builds on our experience delivering direct care to patients, in educating healthcare providers, and in building and equipping clinics," says Irina Lazarian, executive director, Armenia Fund USA. "We are taking many of these successful elements to the next level. Armenia Fund has never shied away from new challenges – rather, we look at this as a tremendous opportunity to build a hallmark program."
HYEBRIDGE TELEHEALTH BENEFITS DISCUSSED
Live Diagnostics
During the conference, Armenia Fund USA showcased its healthcare experience and outlined HyeBridge Telehealth's various programs and patient benefits. Armenia Fund used Polycom videoconferencing technology to broadcast the conference's plenary sessions live to Armenia and Karabakh and to facilitate a live diagnostic session.
The interactive technology enabled more than 400 doctors, nurses and university administrators in Armenia and Karabakh to participate in the conference. Not only did use of the technology save remote participants significant time and money, but turned the conference into a more effective and dynamic event.
Conference attendees participated in a diagnostic session where the healthcare needs of a seriously ill child were discussed. Armenia Fund used this opportunity to stress that HyeBridge Telehealth is designed around the role of people, not necessarily the technology, as essential to delivering critical healthcare services efficiently and successfully to those who need it most.
"It was a very successful and positive exercise," said Dr. Vicken N. Pamoukian, vascular surgeon, Lenox Hill Hospital, New York, and United States co-chair of the conference. "I am very happy we were able to collaborate in this fashion."
Yerevan State Medical University, a key HyeBridge Telehealth partner, was excited by the program's broad impact and expressed excited for the future of Armenia's healthcare.
"I am happy to say that the telebroadcast of the 10th Armenian Medical World Congress was successfully established and accepted with great enthusiasm by the Yerevan State Medical University after Mkhitar Heratsi, the Department of Postgraduate Education and CME, and the representatives of various regional hospitals," said Dr. Mikhail Z. Narimanyan, Vice Rector of Reforms and Integration, Yerevan State Medical University after Mkhitar Heratsi. The telehealth consultation segment was particularly interesting to us all, since the input of all the New York participants was of great practical importance here in Armenia. We strongly support and look forward to the continuity of this initiative. On behalf of all the university's doctors and staff, we would like to express our gratitude for the opportunity to participate in this congress through the HyeBridge Telehealth network."
Continuous Medical Education
Aside from videoconferencing, HyeBridge Telehealth provides much needed access to the most updated medical information and education available today. Armenia Fund showed attendees how the program delivers, via the Internet, education modules, access to medical databases, and live training sessions to remote healthcare providers. HyeBridge Telehealth builds on the ten healthcare related lectures and seminars held between Yerevan and Karabakh in 2008.
PROGRAM PARTNERS AND PROVIDERS
At the conference, Armenia Fund encouraged those attending to become involved in HyeBridge Telehealth. Currently, Armenia Fund is working with a number of groups in Armenia and the United States to deliver healthcare and medical education. "HyeBridge Telehealth is about people," said Lazarian, Armenia Fund USA. "The program's state of the art buildings, equipment and technology are critical to our success. But they don't save lives… people do. We saw the Congress as an opportunity to talk about our program to people who are deeply committed to providing the best care possible to those that need it most."
Current Partners
Yerevan State Medical University (YSMU), a non-private, state run institution of higher learning, is Armenia Fund's primary collaborative partner in Armenia. YSMU serves as program manager and main technology and information hub for the program. YSMU creates the continuing medical education modules, oversees necessary training, facilitates diagnostic sessions, and manages the overall IT network. It also oversees training and allocation of newly graduated residents in the healthcare centers and hospitals in rural Armenia where Armenia Fund implements its healthcare program.
"Telemedicine is a great opportunity for all Armenian doctors in Armenia and Diaspora to collaborate and bring the state of the art medical knowledge to Armenia," said Gevorg Yaghjian, Vice Dean of Postgraduate Education and CME, Yerevan State Medical University. "This is a place where all Armenia doctors can consolidate their efforts"
Armenian American Health Professional Organization (AAHPO), representing health professions in the New York, New Jersey and Connecticut region, and the host of the 10th Armenian Medical World Congress, partnered with Armenia Fund in providing medical expertise and US site support to the live consultations sessions. The group is dedicated to improving health care to the local community as well as brethren in Armenia.
Armenia Fund is also partnering with iCons in Medicine to provide web-based teleconsultations using that group's iConsult services. Armenia Fund will continue to establish relationships with additional program partners. Healthcare professionals or organizations interested in providing healthcare services to rural Armenia through HyeBridge Telehealth are encouraged to contact Armenia Fund.
Karabakh Telecom, a leading provider of Internet and other telecommunication services to the Nagorno Karabakh, and VivaCell, a cellular service provider in Armenia, are contributing their services that allow participating healthcare facilities to connect with YSMU.
"We are excited by HyeBridge Telehealth's success and are thankful for the many in-kind gifts and volunteer hours both here in the United States and in Armenia," said Raffi Festekjian, chairman of the Fund. "Our goal is to expand from these pilot sites to all of rural Armenia and Karabakh thus enabling connectivity between rural Armenia, Yerevan and United States. We are confident that HyeBridge Telehealth will continue to advance Armenian's health, expand community's medical knowledge, and most importantly, improve quality of life."
---
ABOUT ARMENIA FUND USA: Founded in 1992, Armenia Fund USA was one of the first of Hayastan All Armenia Fund's 16 international affiliates. As a non-profit, non-governmental, nonsectarian organization, the Fund's goal is to transform Armenia into an economically competitive nation through development of socio-economic infrastructure for education, public health, drinking water, roads and highways. Since its inception, the Fund has invested more than $200 million towards this goal in Armenia and Karabakh. For more information on specific projects and initiatives visit.
To learn more about Armenia Fund USA, please visit our website at
www.ArmeniaFundUSA.org or call us at 212-689-5307.