For Immediate Release
STUDENTS IN NALBANDYAN VILLAGE WILL HAVE A RENOVATED AND RECONSTRUCTED SCHOOL
Yerevan, November 05, 2015 — The school in Nalbandyan village of Armavir region is undergoing major renovations through the Hayastan Fund Toronto affiliate's benefactors Mr. and Mrs. Armen and Berjouhi Nalbandians.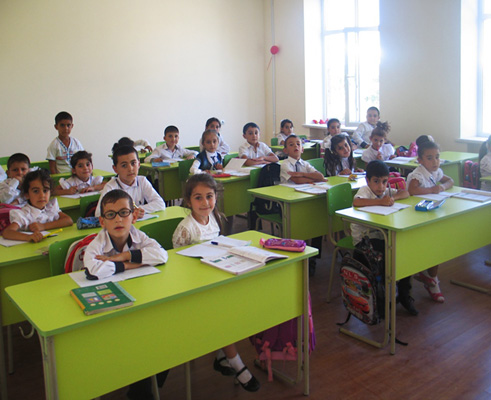 The 2nd and 3rd blocks of the three-story school, which has a total surface area of about 3,200 square meters, are completed.
Before the renovations and reconstruction works started, the foundations and the two blocks of the school have been reinforced, the internal engineering networks, including new electrical, water mains and heating pipes have been reconstructed, floors have been rebuilt with laminate and granite. Six new toilets have been constructed since there was only one toilet to serve the two blocks of the school. While the crews are working on reconstruction of the administrative block, the 600 students of the school study in the newly renovated blocks. A much needed sport gym facility will be constructed for the school. After the construction works are over, the school will be provided with brand new furniture and the necessary sports equipment.
The village mayor Grigor Mkrtchyan says that besides the new and convenient conditions for the students and teachers, the reconstruction also provided jobs and income to about 30 work crews per month.
The village residents were happy to tell that even the storks welcome this nice initiative of the Hayastan Fund. It is the first time they built nests on the four corners of the school roof granting warm feelings to the village residents.
---
ARMENIA FUND USA — founded in 1992 — was one of the first of Armenia Fund's 16 international affiliates and and serves constituents in all states east of the Mississippi. As a non-profit, non-governmental, nonsectarian organization, the Fund represents all Armenian constituents. Armenia Fund USA is the largest contributor among the 16 international affiliates – supporting strategic infrastructure projects in Armenia and Karabakh. The Fund has adopted a policy to go "Beyond Bricks and Mortar" to provide sustainability for projects it sponsors.
To learn more about Armenia Fund USA, please visit our website at
www.ArmeniaFundUSA.org or call us at 212-689-5307.