July 14, 2016
ACCLAIMED PIANIST AND COMPOSER KARÉN HAKOBYAN BECOMES ARMENIA FUND USA'S NEW CULTURAL PROGRAM ADVISOR
PARAMUS, NJ — Armenia Fund USA Eastern Region Affiliate is proud to announce the addition of the Armenian-American pianist and composer Karén Hakobyan as their new Cultural Program Advisor.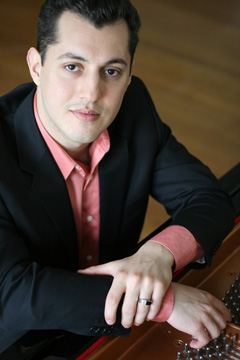 On behalf of the board of Armenia Fund USA, Executive Director Lisa Stepanian explains their decision on the addition of a cultural program advisor, "As a non-profit organization focused on building infrastructures, many of which include the cultural arts, as well as holding concerts in both Armenia and the United States, we thought it would be beneficial to have someone like Karén Hakobyan who is experienced within the cultural arts to help advise us when making decisions on the topic."
Karén has become a prominent influence in the international musical scene since his Carnegie Hall debut at the age of seventeen. He is a top prizewinner of multiple international piano and composition competitions. He has received degrees from the Manhattan School of Music, Mannes College of Music, and the University of Utah. Karén has performed in major concert halls in Armenia, the United States, Mexico, Germany, France, Japan and Argentina. He has appeared as a soloist with orchestras across several continents. His performances have been broadcasted on WQXR New York's Classical Radio Station, WMFT Chicago's Classical Radio Station, Argentine National Radio, Monterrey's (Mexico) Op. 102 Radio Station, and Armenian National Radio. He is the Artistic Director of World Peace Sinfonietta, a New York based orchestra. (Visit www.karenhakobyan.com for more info).
On May 6, 2016 Armenia Fund USA collaborated with Karen Hakobyan and the Armenian National Philharmonic Orchestra to present a concert dedicated to the Cultural and Diplomatic Relations of Armenia and Japan. The concert was held in Aram Khachaturian Concert Hall in Yerevan. It was well received and laid the groundwork for future cultural exchanges between the two countries. It was also the start of new beginnings between Karén and Armenia Fund USA.
On May 24, 2016 Karén, along with the National Chamber Orchestra of Armenia, held a concert at the Armenian National Gallery to honor Hyebridge Telehealth Telemedicine Program, which is one of the Armenia Fund USA's important projects since 2009.
"Music has been my passion and purpose since my early childhood. Growing up in Armenia which has such a rich cultural and musical tradition was the perfect environment for a young aspiring musician. I was fortunate to study with some of the brightest minds in Armenia such as composers Edvard Mirzoyan and David Sakoyan among others. In 2001, I graduated from Tchaikovsky school, which had an enormous impact on my early development, and briefly attended the Komitas Conservatory before moving to the United States in 2002 at age of 16. I had always followed Armenia Fund's caring involvement in the community but it wasn't until about a year ago when I established a personal connection by meeting with Lisa Stepanian to discuss the Tchaikovsky Music School Reconstruction project. Being an Alumnus of Tchaikovsky, I knew exactly how much it was in a need of a major reconstruction and could fully appreciate the impact such a project would have on the development of the future generations of students.

Going through the challenges of becoming a professional taught me humility and hardworking ethics, but most importantly the appreciation for opportunities in education and professional growth. Armenia Fund does exactly that, by building sustainable infrastructure and investing in cultural and humanitarian programs. I am honored to be selected as the Cultural Program Advisor of Armenia Fund USA, Eastern Region and will work tirelessly towards contributing to Armenia Fund's mission and helping to implement impactful cultural projects."

Karén Hakobyan
---
ARMENIA FUND USA: Armenia Fund USA is dedicated to supporting large-scale, self-sustaining initiatives with the greatest potential for a brighter future for Armenia and Karabakh, as they continue to undergo social and political transitions. The Fund is primarily focused on sustainable physical infrastructure for the region and humanitarian and economic development for communities, families, and individuals.
Armenia Fund USA is a non-profit 501(c)(3) organization under U.S. law. All donations are 100% tax-deductible.