REBIRTH OF ARTSAKH
Starting in Spring 2006, Armenia Fund USA and all the affiliates of Hayastan Himnadram launched the "Rebirth of Artsakh" Regional Development Program. The three-year, three-phase plan is to build medical, educational, drinking water and access roads facilities, and includes an Agricultural Initiative program starting in Mardakert. Armenia Fund USA, with the assistance of various international experts, is taking the lead role in the implementation of the Agricultural Initiative, the economic underpinning of the regional development plan.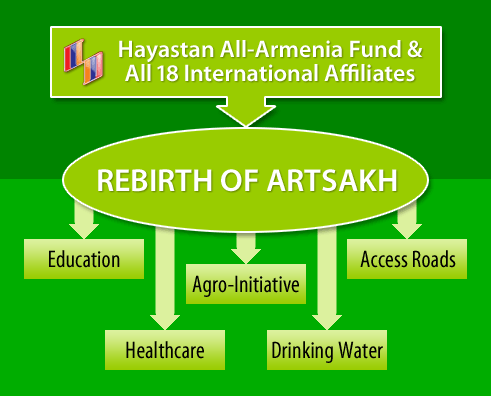 Nagorno-Karabakh is in urgent need of agricultural infrastructure support. With an agricultural import/export ratio that is potentially devastating to the region's economy, the need for the Agricultural Initiative is apparent. Currently more than 60-80% of milk, 70-90% of butter, 70-90% of potatoes and fresh vegetables, 40-60% of meat and about 60-80% of fruits and berries are imported into Nagorno-Karabakh.
The "Rebirth of Artsakh" through the Agricultural Initiative is designed to bring a new level of development and self-sufficiency by providing expertise, machinery, livestock, seeds and other agricultural inputs at low cost.
The initial phase of the Agricultural Initiative consists of the establishment of an Agricultural Development Association (ADA) and a public-private cooperative – Agricultural Services Cooperative (ASCo) in Mardakert region for the production of field crops, swine and cattle. Working together, ASCo and ADA will provide various economic benefits and assistance to the local villagers/farmers. The ADA will be a non-profit entity operated by a cluster of subsistence farmers who will get technical, equipment and material support from ASCo and organize collective activities such as bulk buying or sale through the Association.
With the help of the Armenian Diaspora, Armenia Fund USA will support farmers to not only become self-sufficient but to also contribute to the national economy by expanding their family farming businesses through the ADA. Poverty reduction and better standards of living will allow farmers to stay on their land instead of emigrating to foreign countries. The Agricultural Initiative will give rebirth to the land emerging from a costly conflict.
The North-South Highway, near completion, has become the economic backbone of Nagorno-Karabakh, providing a transport system by which industrial imports and exports can efficiently move through the region. But even with this, the economy of Nagorno-Karabakh needs a major boost to reduce poverty and create new initiatives leading toward self-sustained development and economic growth. This is one of the major reasons why all 19 affiliates of Hayastan Himnadram unanimously agreed to launch the Rebirth of Artsakh Regional Development Program. The main components of this comprehensive strategic plan – agriculture, housing, medical facilities and schools are designed to provide self-sufficient and sustainable economic development.